Historical Buildings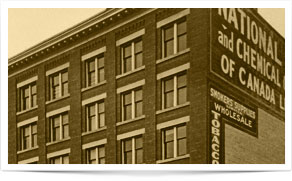 Phillips Building
10169-104 Street
The Phillips Building was built using the latest and greatest 1912 technology for owners N. W. Purcell and J. G. Kelly during the pre-WWI economic boom. It was made with sand-lime brick from the Alsip Brick and Supply Co. of Edmonton, and originally had a 22-foot wide arcade running through it — a 'first of its kind in Edmonton.' It was also one of the first completely fire-proof buildings in the city.
Initially leased to the Western and Cartage Company as a storage warehouse, the Phillips Building underwent a complete renovation in the 1950s when James Brody, owner of Brod-Ease Shoe Co., purchased it for commercial purposes. He gave it the name Phillips to honour his first grandson.
The building was sold to an overseas buyer in the late 1960s and then purchased in 1981 for $6M by Midco Equities Ltd. — owned by Bill Comrie of the Brick Warehouse furniture and appliance chain — with the intention of erecting a 25-storey office tower. The crash of the early 1980's changed those plans. In 2002, renovations were completed by Chandos Construction to restore the Phillips Building to its original character by converting the building to condos.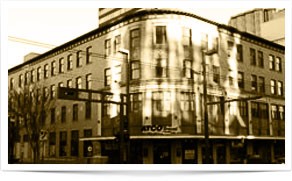 Birks Building
10113-10123 104 Street
Percy Nobbs & George Hyde, Architects; Cecil S. Burgess, Local Architect, 1929
Henry Birks & Sons, based in Montreal, built this as the local flagship for their expanding jewellery business. They had a policy of building medical and dental facilities above their stores as a public service, and the Birks building was no different: it contained the most up-to-date medical facilities in Edmonton, including a built-in compressed air system. Although it was originally designed as a two-storey building, the extreme demand for medical and dental space was such that an extra two floors were promptly added. Construction efforts did not go unnoticed; approximately 5,000 people attended the building's grand opening — hosted by Henry G. Birks, grandson of the firm's founder — on November 15, 1929.
The Birks Building presents a beautifully detailed façade. Patterned brickwork with decorative stone, tile, and metal elements is tightly wrapped around a dramatically curved corner. Two-storey limestone surrounds bracket the storefronts, enlivened by coloured marble insets and cast bronze panels. Although the form of the building is contemporary — and points toward the later Streamline Modern style — the detailing is conservative and classically inspired.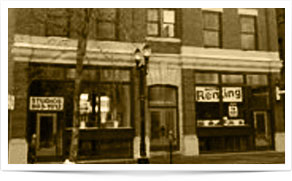 Armstrong Block
10125-10127 104 Street
David Hardie, Architect, 1912
Built as a speculative venture by brothers Reginald and Herbert Armstrong, this prominent and imposing structure reinforces the line of historic commercial buildings on 104 Street between Jasper Avenue and the railway tracks. Unlike the other early buildings in the area, the Armstrong Block is unique in having offices and apartments on its upper floors rather than warehouse space. The façade is sophisticated in its use of materials and details, with a pressed red brick cladding, relieved by vertical pilasters capped with escutcheons that support a projecting cornice.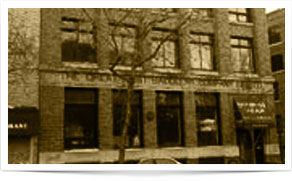 Great West Saddlery Building
10137 – 104 Street
Edward Collis Hopkins, Architect, 1911
E.F. Hutchings of Winnipeg opened a harness shop in Edmonton in 1889 and formed the Edmonton Saddlery Company in 1904. In 1900, after various changes in management, it was amalgamated with Carson & Shore to form the Great West Saddlery Company, which constructed this building to house its wholesale and retail activities. Surprisingly, despite the advent of automobile traffic, the company was able to stay in business and retained ownership of the building until 1958. This five-bay structure remains essentially intact and has been adapted for artists' workspace and gallery exhibitions.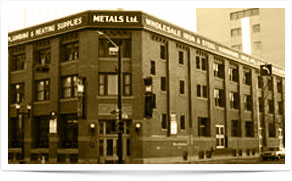 Metals Limited Building
10184 – 10190 104 Street
Magoon & MacDonald, Architects, 1914; Richard Palin Blakey, Architect, 1927
Located on a prominent corner lot, the Metals Limited Building was designed in a utilitarian style, but the deft hand of the architects is revealed in their handling of both the angled corner entry and the decorative name plaque of precast concrete. Metals Limited was organized in 1910 with headquarters in Calgary to handle wholesale plumbing and heating supplies. Ownership changed in 1948 when the company was sold to Empire Brothers Manufacturing Company Limited. The building itself was sold and converted into retail and office space in 1975.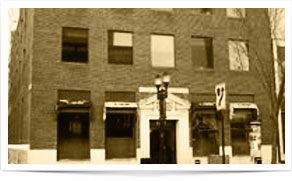 McKenney Building
10187 -104 Street
Magoon & MacDonald, Architects, 1912
Designed by local firm Magoon & MacDonald, the McKenney Building was built in 1912 for $40,000. Utilitarian in form, this three-storey brick-faced building features a classically-inspired pedimented stone entrance. Situated at the corner of 104 Street and 102 Avenue, the McKenney Building relates well to the nearby Metals Limited Building, Revillon Building, and The Boardwalk, acting as a unifying visual link for the surrounding warehouse buildings and contributing to the heritage character of the area. The original owner and the building's namesake, Henry William McKenney, arrived in St. Albert in 1883 from Amhurst, Ontario. He became a prominent businessman and was elected to the first Legislative Assembly as the representative for Clearwater.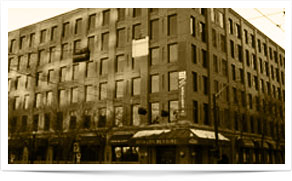 Revillon Building & Annex
10201-10247 104 Street 
James McDiarmid, Architect, Winnipeg, 1912 (Annex, 1920)

In 1902, Revillon Frères, who represented a Paris-based fur trading establishment, selected Edmonton as the distribution centre for what was to become an empire of wholesale and fur trade stores. By 1912, expanding trade requirements called for the construction of the Revillon Building. Designed by Winnipeg architect James McDiarmid (who also designed the annex) and built by his brother John, it was the largest warehouse structure in Western Canada. Its construction marked a significant point in the evolution of Edmonton's warehouse district; modern devices such as the automatic telephone exchange, pneumatic tubes, and spiral shipping chutes were first seen here.
The Revillon Building, like the Phillips, is exemplary of the straightforward, clean, and functional styling of utilitarian buildings of the pre-WWI era. Red brick walls rise above a stone base with a unique twinned corner entrance. Ornamentation is confined to the corbelled brick parapet, while visual relief is provided by emphasizing the vertical brick piers and the use of recessed inset spandrel panels. It is no wonder the Revillon Building, which dominates the intersection of 104 Street and 102 Avenue, is a landmark in the Edmonton warehouse district.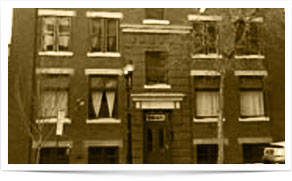 Canadian Consolidated Rubber Company Warehouse (Cobogo Lofts)
10249 – 104 Street
Canadian Stewart Company, Designers, 1913
The Canadian Consolidated Rubber Company built this structure on the foundations of the Ker Building, which was destroyed by fire in January 1913 a year after its construction. Completed in only two months' time, the contractor for the CCRC Warehouse was the Canadian Stewart Company of Montreal, who later built Edmonton's iconic MacDonald Hotel. It opened for business on December 27, 1913, supplying northern Alberta with rubber belting, packing, hoses, waterproof clothing, felt footwear, automobile and carriage tires, and druggists' rubber sundries.
Red brick walls cover the heavy timber structure, with precast concrete used for decorative accents on the window sills, lintels, copings, and date stone. The entry features projecting brick piers and a concrete entablature. An internal staircase is expressed on the front façade through the use of central staggered windows.

Horne & Pitfield Building
10301 – 104 Street
Edward Collis Hopkins, Architect, 1911
J.H.G. Russell of Winnipeg, Architect; Magoon & MacDonald, Local Architects, Additions in 1923
Additions in 1947
This landmark structure was built for Foley Brothers, Larson & Company for $50,000. Having moved their wholesale grocery business west from Winnipeg in 1905, this new warehouse was seen as a 'visible example of the faith they [had] in Edmonton, the gateway City and distributing centre of the last great west.' Ownership passed to Campbell, Wilson & Horne in 1913, and in 1943 the firm was reorganized as Horne & Pitfield.
Edward Hopkins, the son of well known Montreal architect John W. Hopkins, utilized elements of the Chicago School in his design for the Horne & Pitfield Building, which was remarkably clean and modern for the time. The original five-bay structure was expanded in 1923 to the designs of a Winnipeg architect, which included five new bays to the north, just two storeys high. Another two storeys were added in 1947, completing the ten-bay, four-storey structure. With both additions, the existing massing and detailing was replicated, leaving the consistent composition we see today.