104TH Street Helps Alberta Kickoff Culture Days 2012
How did you kickoff Alberta Culture Days this year? Alberta's Ministry of Culture and 104th Street hosted a block party like no other.
We shut down 104th on Friday, September 28 so that thousands could start their Alberta Culture Days weekend with a bang… and art, and food, and music!
Alberta Culture Days is the province's largest celebration of art, heritage, and cultural diversity. It is an annual celebration during the last weekend of September and part of a national Culture Days initiative. To celebrate Alberta Culture Days fifth anniversary and build even more momentum for the weekend's events, Alberta Culture hosted two kickoff events on Sept. 28 – one in Calgary at McMahon Stadium and one in downtown Edmonton.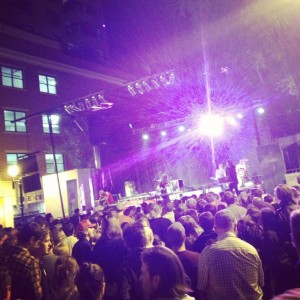 On 104th Street, the warm late summer night brought out over 6,000 people from across the capital region to sample some of Edmonton's cultural finest – from taking part interactive art pieces to sampling tasty culinary delights to exploring the Alley of Lights. Groups of friends took in the patio atmosphere and young families grooved to the music created by Alberta's own DJ Beat Burglar, hip-hop group Politic Live and ska-punks Mad Bomber Society. Headliners Shout Out Out Out Out closed the show with their dance-rock tunes that featured a surprise appearance by former Edmonton Poet Laureate, Cadence Weapon (aka Rollie Pemberton). A big 'thanks!' to all the 104th Streeters who took part!
An additional 1,235 Alberta Culture Days events were held in over 81 communities across the province throughout the weekend. Alberta Culture Days is a volunteer-driven, grassroots movement led by partners in the culture sector in collaboration with government, public and private sectors. Anyone and everyone can take part. Check out AlbertaCultureDays.ca for more information on upcoming cultural events in Edmonton and how you could participate in next year's Alberta Culture Days celebrations, September 27-29, 2013.