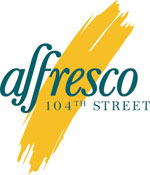 Al Fresco Block Party & Fundraiser
The 104th-St. community is thrilled to announce Saturday, June 9th, 2012 as the date of our annual block party and fundraiser. Mark your calendars and save the date for an action packed day of fun and excitement in the downtown core!
We are feverishly working on event programming to bring you a fabulous day that includes:
The Downtown Edmonton Community League Pancake Breakfast running from 8AM to 11AM
Edmonton Downtown Farmers' Market operating between 9AM to 3PM
A "Kids Zone", run in cooperation with the City of Edmonton, opening between 4PM and 8PM
The deVine Wines & Spirits and Yellowhead Brewery "Tasting Lot" and salon serving between 12PM and 8PM. You will have an opportunity to sample 90 different types of wine, beer and spirits in this urban enclave!
Extended patios from your favorite restaurants and wine bars on 104th-St.
Music from a lineup of great DJs and stage performers
Fashion show and a drag show brought to you by some of Edmonton's most fabulous Queens
An armada of food trucks coming together for another, much anticipated "What the Truck?" event
Street food from some of Edmonton's hippest and fun filled restaurants
"The businesses and residents along 104th-St. and surrounding area are excited to share the vibrancy in our growing community." says Al Fresco Committee Chair Ed Fong. "Al Fresco celebrates the start of summer, and we wanted to do something special as a community to support a very worthy cause. This year, I am pleased to announce we will be supporting the Zebra Child Protection Centre."
Coming Together as a Community
Al Fresco is not only a celebration, it is a grassroots fundraiser designed to bring the 104th-St. community together by uniting everyone in support of a great cause. Our goal, as a community, is to raise $15,000 for the Zebra Child Protection Centre and to create public awareness of this very serious social issue.
The Zebra Child Protection Centre is a non-profit, community-based organization that was established in 2002 to improve the lives of children who have suffered abuse. Through Zebra's community partnerships, the Centre is able to provide children and their families with essential social, medical and mental health services and supports. To find out more, visit their website at zebracentre.ca.
How Can I Help?
You can help us achieve our goals in many different ways.
Come downtown and celebrate with us on June 9th, 2012. The restaurants, wine bars and food trucks will be donating a portion of their proceeds in support of the Zebra Child Protection Centre. Net proceeds from the Downtown Edmonton Community League Pancake Breakfast and the gate receipts from the "Tasting Lot" will be donated to Zebra Child Protection Centre.
Participate by bidding on our on-line silent auction. Last year, nearly $20,000 was raised for E4C's Edmonton School Lunch Program. The on-line silent auction can be tracked on deVine Wines & Spirits website.
Donate an auction item. We are seeking auction items to make this our most successful to date. If you are interested in donating to the auction, please contact Ed Fong at deVine Wines & Spirits.
Donate item(s) from the Zebra Centre's "Top 5 Wish List". The Zebra Child Protection Centre needs:

– Non-perishable snacks & juice boxes;
– Sweaters/hoodies for kids under 8 years of age;
– Gift cards from teen related stores;
– Jewellery for young teens;
– Board games for children;

Prior to Al Fresco, these items can be dropped off at deVine Wines and Spirits at 10111-104th-St. We will have drop boxes set up at the Zebra Information Table on the day of June 9th, 2012 to receive any "Top 5 Wish List" donation items as well.

Make a cash donation.
Donate your time. The Al Fresco Planning Committee is always looking for eager volunteers to help us run this exciting event. If you would like to volunteer your time, please contact Caitlin McElhone at 780.761.6682 or by e-mail at

[email protected]
Update:
Al Fresco Schedule:
8:30am – 11:00am
DECL Pancake Breakfast (102Ave & 104Street by Ric's Grill)
9:00am – 3:00pm
Farmers Market!
Noon – 10:00pm
Fine Wine & Beer Tasting area in the Melcor Parking Lot ($25 donation to Zebra to access this area)
5:00pm – 7:00pm
Melcor Kids Zone! (Pocket Park behind Sobey's)
5:00pm – 10:00pm
Extended Patios, What the Truck?!, Fashion Alley and more from your favourite 104th Street Merchants!
5:00pm – 11:00pm
Stage performances, Fashion Show & Drag Queens!